Butts. We have to discuss. Specifically… butt shorts. Ok my friendly readers who are, at this moment, saying, who the hell reading this is wearing butt shorts ?  I know, none of you. I hope; but our teenage girls are and it is to be discussed. No I've not turned into "HER" the little old lady on everyone's block who wagged her finger and shook her head every time one of us paraded by in our "hot pants" or too tight bellbottoms! I do understand the old gal now though! I've just seen way too many cheeks lately to leave this alone.
Here is the thing ; there is a big disconnect between what's going on in the world that most of our smart young girls know about and how they present themselves to the world. And they feel, as God knows I did, that nothing bad will happen to them. It's good and also not good at all because we live in a dangerous world where young girls are preyed upon. I don't like writing that anymore than I like saying it to my 18 year old daughter, but sadly it is a fact of life.
Here is an example of what I'm trying to articulate and you connect the dots;
A few months ago I read a wonderfully insightful piece on HuffPo on sex trafficking written by a 16 year old girl.
The piece started out with the line " I am a perfect candidate for sex trafficking, I am a 16 year old girl." Got me. She then went on to give well researched facts on the number of young girls kidnapped in the US, states that have the highest amounts, and bills being passed or blocked to protect against or prosecute those offenses. Truly, I was blown away by the depth and maturity of the 16 year old writer, not to mention the research time she put in. Later that day, I was blown away , yet again, when my daughter showed me a picture on Facebook  of the article's author  posing like a Victoria Secret model in a string bikini. Not on a beach with friends, or at a swimming pool, but on Facebook .
Reader, I suspect you are connecting the dots. We need to have conversations with our young women. Yes we understand you  want to show off how great you look and feel. Yes we understand you have blossomed into the butterfly you were meant to be, and yes it does feel yummy to be free.
And yes, if I can see  half your right cheek walking down the street in front of me , you know the perv at the corner can too.
How can our girls take responsibility if we don't take responsibility for talking to them, teaching them, helping them to connect the dots in a world full of disconnects? It's a question I've been asking myself and urge you, if it strikes a cord, to think about also. That's pretty much my soap box squeal for this week.
Not wanting to get too heavy, my big share this week is my friend, Rappin' Granny, aka Vivian Smallwood, the one, the only, the first and original "Rappin"Granny!"
Now that we are on the opposite end of the spectrum,  my friend, Rappin' Granny is 80 years old.  From 16 year olds in bikini's to "Rappin Granny Talks Shit" is more of a break dance than a leap, but I'm talking about an 80 year old with the energy and spirit to out sing and out dance most 16 year olds.
When I first heard Granny sing a solo with her choir, the Brookinaire Gospel Choir, at LA's infamous FAME Church, my first thought was it doesn't get better than this.  But it did! The next time  she  was the guest soloist, she danced herself out into the middle of the isle, tore off her wig and  threw it out into the congregation like  Gypsy Rose Lee flinging her bra! Again, I thought I'd seen and heard it all. Then I got to know Granny.  The expression, "You ain't seen nothing' yet is all that comes to mind!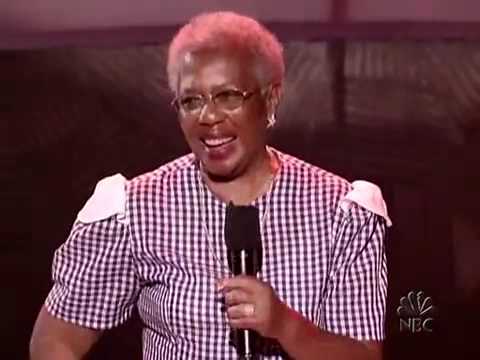 I wanna be Rappin Granny! At 80 going on 81, I want to toss my wig into a packed house , dancing and singing with pure joy! Like Granny,  I want to be splitting my last dollar of the week with everyone around me, happy to be getting less so others, at least, get some.
Having coffee with Granny a few weeks ago I asked ,  "Now that you are approaching 81, Granny, what is it you really want?" Expecting to hear "a rest," " to relax"  or "to take it easy."
What I heard instead was,  "I 'd like to be in a sitcom… Yes,  I'm thinking now would be a good time to be on a TV series. I'd like to be able to put some money away for my family."
Take a rest? Take it easy?That's not the way Rappin Granny ( aka Vivian Smallwood) rolls!
http://www.youtube.com/watch?v=nLHl2ynDPp4
And I want to be rappin, not kvetching. And as for talking shit…I'll be grateful to be talking anything  at all!
Want to smile wide, laugh loud or just be tickled into inspiration, check out my girl, Rappin' Granny.
Love, Peace, and Granny Power!
AS